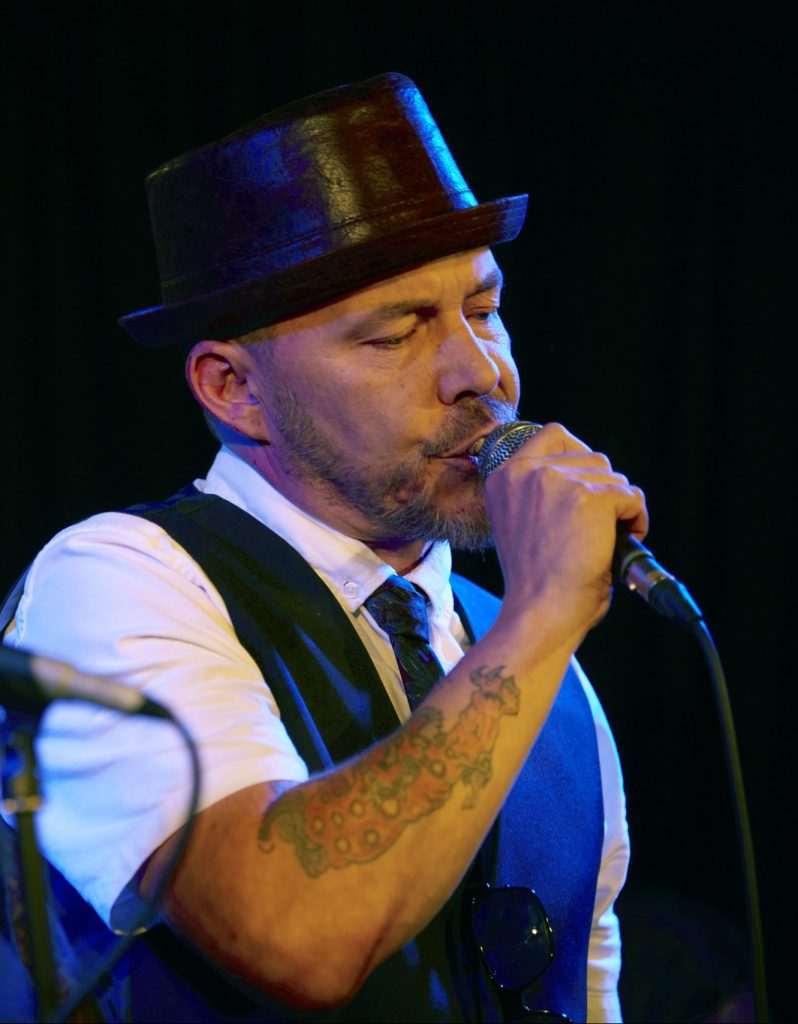 On the eve of the New Note Strummers CD launch, we wanted to share Jim's recovery story. He plays percussion on all 11 songs and is the vocalist on Gimme Some Lovin, The One I Love, Day Tripper, Wanted Dead or Alive and Hurt
If you would like more info about the CD please click here
Here is Jim's story…
"If I think about it, in these last four years I've played in front of one of my heroes and I've performed with an orchestra with a professional string quartet. I have to pinch myself sometimes."
A regular at New Note's weekly Strummers guitar group, Jim hasn't had a drink in four years and in that time he's succeeded in turning his life around. As a teenager, he had a passion for acting as well as for boxing which he took up after being bullied at school. But, as he says himself: "As soon as I started drinking, I was out of control and before long I lost my job as an apprentice."
After a short stint in the Armed Forces, Jim became a qualified carpenter and joiner but the drinking had become a real issue by this point and his relationships with his family and girlfriend suffered. He experienced a period of homelessness as a result, all of which took a toll on his mental health.
"Things looked good on the outside but I kind of knew I had a problem," he says. "Looking back now, I've always known I had a problem. But I thought it was normal to drink. Builders drink heavily, that's British culture in a way."
Now in a 12-step programme for addiction recovery, Jim stopped drinking four years ago when what should have been a straightforward hernia operation left him in crippling pain. Since then, he's not looked back and, with the help of local recovery groups, has rebuilt his life and has a newfound sense of purpose.
Growing in confidence
A long-time guitarist, he first heard about New Note from somebody else in recovery and his technical prowess on the guitar has gone from strength to strength since joining the Strummers group which is led by an expert guitar tutor.
His crowning moment came a couple of years ago when the Strummers played at the Komedia in Brighton. Jim takes up the story:
"I'd invited my auntie who lives in Worthing, I didn't ask my mum because she lives a bit further away. I didn't realise but lo and behold my auntie had told my mum I was singing three of the songs. And when I got up to sing, my mum was in the audience and I didn't even realise she was there. If I'd know my mum was going to be there, I'd have been really nervous!
"After the three songs, I heard this voice shout my name out and I looked and she was right in the front frow. I couldn't believe it, but that was lovely because she gave me a big hug and said she was really proud of me and that was the first time she'd said that since I was a little boy. That meant a lot, and that came about because of Strummers. I've been able to make amends with my family since I've cleaned my act up and I get on alright with them now which is great because I've missed out on a lot."
What made the evening even more special for Jim was the fact that one of his musical idols from the band Madness was also at the gig and had watched him perform. "I got off the stage and shook his hand straight after. What a great night it was. I even got asked for my autograph afterwards, I was blown away by that!"
There have been difficult moments for him during his recovery journey – such as the loss of both his partner and his beloved dog Sky – but Jim is determined to keep improving his skills as a musician. Not long ago, he also joined New Note Orchestra where he has started playing percussion.
"The orchestra's a different level of musicianship, that's one reason why I wanted to join it because it's all about learning, and I'm learning so much more about music," he explains.
"It gives me a routine, I rehearse once a week with Strummers and with the orchestra. It gives me something nice in life to look forward to and it enhances my recovery because I enjoy it and it's good for my head, for my mind, for my soul."