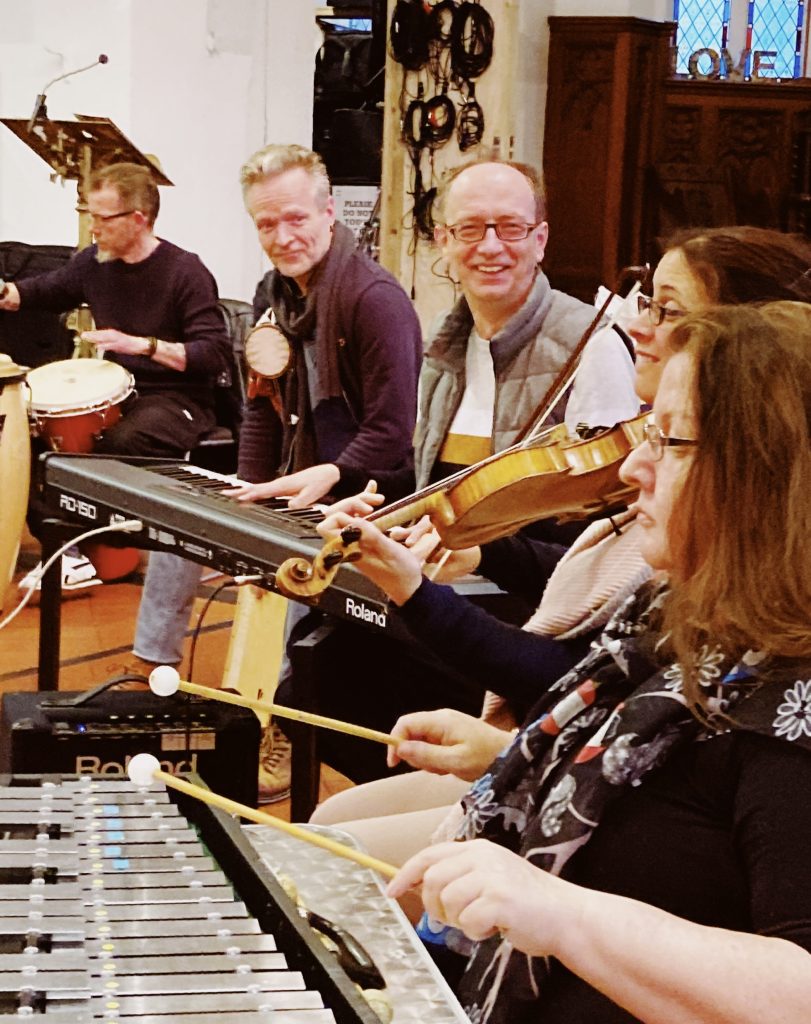 On Tuesday 5th April, the New Note Orchestra rehearsals took a more competitive edge, as we put aside our normal repertoire and played some football songs. But there was no Vindaloo or Three Lions, this was done New Note style, by composing a brand new piece from scratch with the Royal Philharmonic Orchestra.
Kick off
This extra sporty session of New Note rehearsal was part of the UEFA Women's EURO 2022 Cultural Programme. This July, 16 teams from around Europe will take place in what is predicted to be the largest women's European football event ever, with more than 350,000 tickets already sold according to UEFA. The competition will take place in nine host cities across England, with New Note's home – Brighton and Hove – due to host three fixtures. The other host cities are Southampton, Hounslow, Brent, Milton Keynes, Sheffield, Wigan and Leigh, Rotherham, Trafford and Manchester. 
The UEFA Women's EURO 2022 cultural programme includes a series of panels discussing music and sport, a new official anthem created with contributions from the public, and a number of local anthems created in collaboration with schools and community groups, like the New Note Orchestra. 
Keep it in play
On Tuesday 5th April, three instrumentalists and a composer came to New Note's rehearsal space, St Lukes. Andy on trombone, Bartosz on bassoon and Miranda on viola were joined by a musical director, Sam, to present their instruments. Prior to playing together, we discussed the importance of community, women's football and what it means to write an anthem. 
Woman's football in the UK has had a turbulent history. At the beginning of the 20th century, with the event of World War 1, many women started working in heavy industry. This new inclusion in the workforce brought a new sense of community among working women, and with it the growth of women's football teams. By the end of the 1910s and beginning of the 1920s, the game had become so popular that attendance was even beating the men's game. Yet in 1921, the male-dominated FA banned females from on its pitches, perhaps due to the popularity and competition from the women's game.
"The game of football is quite unsuitable for females and ought not to be encouraged," read a statement from the FA at the time. The ban was finally lifted in 1969, but since then the game has faced an uphill battle to regain its popularity, with a struggle to catch the public's imagination with comparatively little funding and commercial interest. 
In recent years, the game has seen an uptick in popularity. In November 2019, England played in front of a record crowd of 77,786 fans at Wembley Stadium in a thrilling but disappointing 2-1 defeat to Germany. In 2022, the FA is predicting this number will be beaten. "We have set ourselves the objective to smash records with this tournament…we are safe to say we will break attendance records in summer 2022," UEFA chief of women's football Nadine Kessler announced in November 2021. 
Team Effort
The themes of victory and playing together were decided upon, as the musicians from the RPO and New Note traded lyrics, grooves and riffs. Percussion and melodic instruments alike were utilised in what became a productive session. 
Dawn, who plays hand bells and also came up with some initial ideas for the the feel of the piece said of the session:  "The experience with the Royal Philharmonic was all inclusive and gave everyone, including even the more timid and bashful, an opportunity to join in. Whether they offered a word, a sound or a beat the two orchestras span a web of immersive delights. What a wonderful experience to be part of!"
The workshops are scheduled to be completed in May, and once finished, a completed anthem will be recorded and made available to the public, with musicians invited to play in fan zones at the Host City stadiums. Maybe you'll see us play at game you attend – we'll keep you posted!
For more information on the UEFA Women's EURO 2022 Cultural Programme read here.
The first game hosted by Brighton and Hove will be England vs Norway at Brighton and Hove Community stadium. More details can be found here
And lastly, here's a short video of the session.
Come on ENGLAAAAAAAND.