Traces Through Time - A collaboration with New Note Orchestra and Fallen Angels Dance Theatre.
Fallen Angels Dance Theatre are a Chester based company providing unique dance experiences for people in recovery of addiction. This was their first collaboration with live music. Traces Through Time was devised by Fallen Angels Dance theatre Artistic Director and former Birmingham Royal Ballet Soloist Paul Bayes Kitcher. The dancers and musicians in recovery bring their life experiences and stories to the stage.
Fusing dance, live music directed by Conall Gleeson and spoken word by Louise Wallwein, Traces through Time is a deeply moving exploration of the complex journeys of recovery, from mental health adversity to life-altering transformation.
Traces Through Time was developed over many months and came about due to a mini collaboration between New Note Orchestra and Fallen Angels Dance Theatre for a conference highlighting the 'Recovery Arts Network' at the University of West London. Dr Cathy Sloan, Senior Lecturer in Applied and Socially Conscious Theatre, hosted the conference which lead to the formation of the Addiction Recovery Arts Network.
Traces Through Time was performed at South East Dance in Brighton, Storyhouse in Chester and the Royal Opera House in London.
The Royal Opera House invited the artistic teams from New Note Orchestra and Fallen Angel Dance Theatre to host a conference as part of their Insights at ROH season. Conall Gleeson, New Note Orchestra's Music Director discusses how he supports the musicians in the music making process. Paul Bayes Kitcher discuses how he choreographed Traces Through Time. This was then followed by a panel discussion where founder Molly Mathieson and Strategic Director Claire Morris from Fallen Angels are joined by Dr Cathy Sloan in a conversation about how the recovery arts can be used as a tool for social change.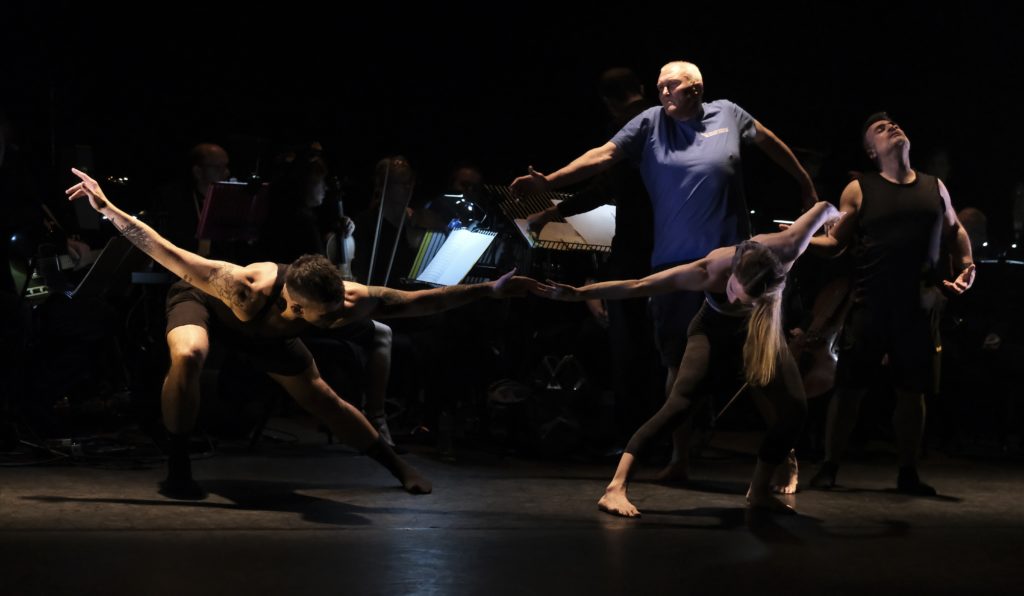 The seeds of collaboration began in lockdown when nine recovery arts organisations came together to create a video for Overdose Awareness Day. Headed up by Small Performance Adventures, they shared online spaces and brought everyone together to produce something very special. It was inevitable that New Note Orchestra would start to work with dance and through the Overdose Awareness Day project our bonds began to form. We had a fantastic connection and relationship with Fallen Angels Dance Theatre. To work with another organisation who support people in recovery has been transformative for all of us. Building up to a performance in the Linbury Theatre at the Royal Opera House has been a career defining moment. Its changed all our lives and ignited our ambition.