Last February, on Valentine's Day, the New Note Orchestra played to a packed-out audience at the All Saints Church in Hove. The performance went down a storm, with a standing ovation, and many compliments on the professionality, originality and dynamism of the orchestra. Like many recent performances, New Note's sound was bolstered by the inclusion of the New Note Strings, a trio of professional musicians who have been working with the group since mid-2021. 
New Note has never been a normal orchestra. With its unique structure, varied participation and semi-improvised approach to composition, the group has always been a little bit different. Most striking to many people hearing New Note for the first time is the unusual mix of instruments. Guitars, both electric and acoustic, synths and organs, various percussion instruments, a banjo, a theremin and of course the famous handbells, all make a mix that fascinates and excites listeners. 
However, the sonic possibilities are always developing, and the group is always looking for new sounds. In 2021, musical director Conall Gleeson started work on the New Note's first album "Kind Rebellion", taking compositions that had been part of live shows and revamping them for a studio recording. To bolster the sound and expand sonic possibilities, Conall employed a group of professional string players. The following year, while performing some of the tracks as an online broadcast, the same players were invited back to perform live with the orchestra. 
The rehearsals and subsequent performances were exciting for all involved, and the New Note Strings, as they have become known, have joined the orchestra on a number of further performances. 
We spoke to three of the regular players, violinist Sophia Bartlette, violist Ros Hanson and Cellist Sarah Davison about the first time they joined the Orchestra and their experiences playing live with the group. 
Sophia Barlette, Violin
Sophia is Assistant Director of Music at Roedean School and leader of The Sussex Symphony Orchestra. She is a regular soloist with the Musicians of All Saints Orchestra and leads the Nelson Quartet which performs primarily in the Southeast. She is a busy freelance violinist and has performed on the Graham Norton show, Glastonbury festival, Edinburgh festival and many others. She enjoys string arranging and records as a session musician.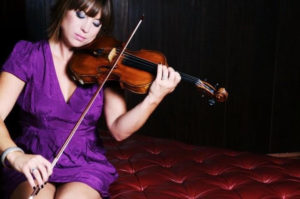 "I immediately loved [working with the orchestra] from the first rehearsal. It was a different working environment and it was great to see how the music evolved – rather than just playing the notes and leaving. It is a different process from how I normally work in an orchestra environment. It's a clash of two elements, the improvisation and the formal structure. That's the alchemy of why it's exciting once it gets in front of an audience. It brings something magical – it's always different.
The experience of working with New Note has taught me to be flexible within a rehearsal space. I'm used to working at speed, so having a different environment in which we're going through the music at a different pace has been great. We're learning as the rest of the orchestra is learning. 
I wasn't prepared for the stories that were told as part of the performance. I didn't think it would be so intimate – it felt like an open space. But they worked brilliantly with the music and bonded everybody in the room. The stories were raw and there were no boundaries, which was great. Music is about communication and hearing the stories behind people in recovery creates more understanding."
Ros Hanson, Viola
Ros is a freelance viola player and an upper-strings teacher. When she's not teaching, Ros is involved in outreach work, sometimes with special needs children, and does a lot of concerts for schools with Ensemble Reza in Sussex and all over the South East with Kidenza. She also works as a youth orchestra coach and conductor. The rest of the time, she performs in chamber ensembles and orchestras as well as working as a soloist and session musician.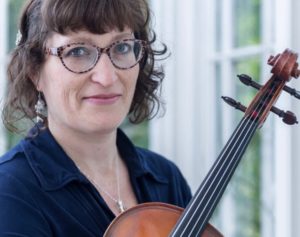 "I'd done lots of outreach work before, and some in quite deprived places with children and young adults who come from some challenging backgrounds, but I hadn't worked with people in recovery. The sound world was much less rock/pop music based than I thought it would be, and I wasn't expecting the music to be so well thought out. I was also expecting the rehearsals to be less organised and focused. 
The first rehearsal had a great dynamic, warm, friendly, funny – lots of camaraderie. Everyone was very patient with each other and any issues were dealt with good-natured humour and kindness. There was quite a bit of chatting and discussion, but it never really got in the way of the rehearsal. There was a real commitment to learn and get things right. I was entertained by some people's need to keep turning their volume up, and as a classical musician – it felt quite loud initially! 
It's a really inspiring group to be part of. I love the warmth and kindness that radiates from everyone involved. It was very moving to hear personal stories woven into the music, and I am in absolute awe of how so many of the group have brought themselves from some really dark places into positivity and light. I've worked with a variety of musicians who through pressure and lifestyle have found themselves as high-functioning addicts often at huge cost to themselves and their families, so it's been wonderful to see music, stories and poetry used to aid recovery rather than to perpetuate addiction. I was especially moved by the orchestra's Green Recovery project and the links made between individual recovery and caring for our environment as a whole. 
The Valentines Day concert was also really special – just seeing everyone moving with the music and being absolutely captivated, especially by Vlad!" 
Sarah Davison, Cello
Following her graduation from the Royal Welsh College of Music and Drama, Sarah went on tour as a musician on Yehudi Menuhin's Live Music Now! scheme. Leading outreach workshops in a variety of settings with LMN! and the Cavatina Chamber Music Trust fostered a love of working with young people and she has gone on to teach cello in multiple settings. Sarah's work as a cellist has ranged from performances with the BBC National Orchestra of Wales, to TV appearances at The Brits, the Royal Variety Performance, touring and recording with jazz singer Claire Martin OBE, and supporting Ben Folds Five.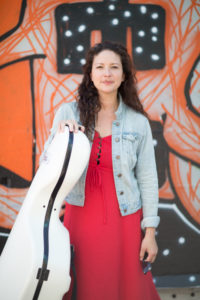 "When I entered the music profession much of my work was playing in a string quartet on the Live Music Now! scheme. It's an amazing organisation that was founded by the violinist Yehudi Menuhin, with the aim to bring music into communities where there is reduced access to music. When Conall explained that he was the creative director of New Note Orchestra and that he needed a cellist I was interested straight away. I think it's sometimes overlooked that music is a basic human right, so I was really interested to hear about an inclusive community orchestra for people in recovery. 
I really like the fact that it welcomes those with and without any music performance background, and think that one of the things I've noticed in the rehearsals is how welcoming it is. I also loved the fact that the orchestra creates and performs its own music, developed through improvisation. 
The first rehearsals were a special time as it was 2020/21 and NNO were one of the first groups I got to perform with again after what had been a difficult period for everyone. It was so wonderful to share a space with people and make music again! I remember our first rehearsal clearly, there was a lot of smiling and encouragement in the room and the group were cheering and clapping each other in the rehearsal, which myself and the other pros weren't used to but we loved every moment of it!
I personally have really appreciated hearing peoples' stories of their road to recovery. Two of my most influential and early cello teachers battled with their own addictions and listening to people share their experiences has made me realise how brave they were and helped me to understand what they were going through.
One of the most memorable experiences was the Old Market gig in 2022. Sold out audience, musically exciting, rhythmically engaging, emotionally moving, tears from the audience, the whole package!"
Mutual appreciation
The experience of working with the string players, as well as other professionals, has been a rewarding one for the orchestra, not least because of the way the string section adds to the overall sound. The patience and professionalism shown by the New Note Strings is inspirational, and the orchestra is always so excited when we know that they will be at a rehearsal or playing with us. With a number of exciting projects coming up in 2023, we hope that we will all be together on the same stage again soon. 
You can read more about how New Note works with professional musicians in Issue 1 of Performing Recovery.