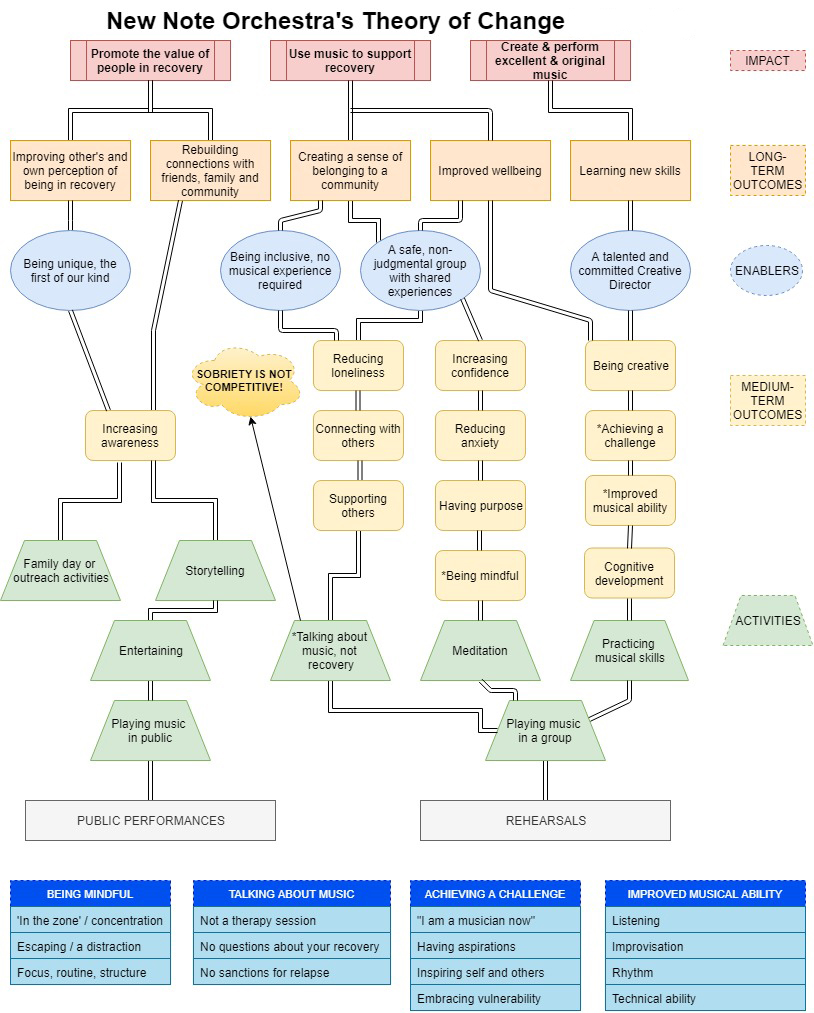 We take impact measurement seriously and it's integrated into our work.
We assess our impact/outcomes through regular feedback from our participants, questionnaires and focus groups. We also measure the impact we have on our audiences and use internal measurement tools alongside some external evaluators.
NNO offers a structured musical programme with professional music direction, creating a supportive community. We cater for beginners through to professionals, encouraging everyone to compose together as each contribution is valued. NNO leaves a legacy, an actual music product, that people can feel proud about. Importantly, it shifts the emphasis away from being clients/patients in therapy or treatment towards being a musician. This has a huge bearing on people's identities and is something they can take out into their lives, another kind of legacy, both personal and professional.
All
Dance
Key Changers
Orchestra
Strummers
The Outcomes
Members of NNO report improved self esteem and a renewed sense of self-worth and purpose
Participation reduces loneliness and isolation by bringing people facing the same challenges together.
NNO revives neglected musical talent and develops new skills while participants continue in recovery.
Ultimately, NNO is building a community based around a common musical purpose.
The Impact
By creatively supporting the recovery process, we relieve pressure on public finances whilst contributing to the vibrant community of Brighton and Hove.
Feedback from our audiences tell us that our concerts help reduce stigma and ignorance around addiction and alcoholism.
By humanising what recovery from drug and alcohol addiction looks like we build tolerance and understanding.